Douglas Little ha creado para Dell una lujosa colección de portátiles de diseño, ideales para fashion bloggers... No os la podéis perder!
Douglas Little has created a Luxurious collection of design Laptops for Dell, ideal for fashion bloggers...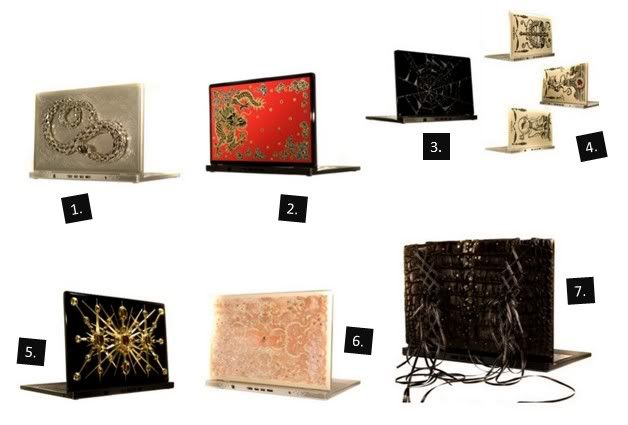 Ultimate Temptation: Eva, la serpiente y la manzana en swarovski /Swarovski Eve, snake and apple

Seduce the Senses: Inspirado en el movimiento Art Déco de los años 30 y los fumaderos de opio/ Inspired in Art déco mouvement of the 30s and the opium dens.

Web Master/Master the Web: Una red pero en vez de virtual de tela de araña, muy de los años 20 y 30 e inspirada en un broche de Cartier/a spiderweb based in a Cartier brooch with influences of the 20s and 30s.

What the future holds: Como cartas del Tarot de influencia gótica/Like gothic tarot-card designs

Divine Design: La creación como concepto casi químico/ Creation almost like a chemical concept

The Princess of the PC: En vez de la princesa del guisante una princesa con uno de los portátiles más delgados del mercado/Instead of the matress, one of the slimest laptops in the market

Reshaping Technology: Corsé piel de caimán unida con remiendos y cristales negros de swarovski/caiman skin corset pieced together with black swarovski crystals.
¿No os encantan? ¿Con cuál os quedaríais?
Fuentes/Sources: elle, Dell.com